Pasta Replacement Meal:
Quinoa Lasagna
When trying to lose weight, carbohydrates may not be your best friend. Cutting back on carbs can be difficult, and can put a strain on your relationship with pasta. Don't despair, lasagna lovers—quinoa, a popular whole grain super-food, is a delicious and nutritious substitute. There are plenty of whole-grain recipes containing vitamins, minerals, fiber, antioxidants and phytonutrients that are more likely to prevent unwanted pounds. That means that you'll be actively decreasing your chances of developing some pretty serious diseases and health conditions related to obesity.
For a healthy alternative, give this quinoa lasagna a try. Instead of heavy layers of noodles, this dish uses quinoa along with vegetables, cheese and herbs. Once you try it, you'll wish you had added quinoa to your diet years ago!
---
Quinoa Lasagna
Ingredients:
2 cups water
1 cup quinoa
2 tablespoons canola oil or olive oil
1 cup chopped onion
1 cup sliced mushrooms
2 cloves garlic, minced
2 cups tomato sauce or prepared pasta sauce
2 cups no-salt-added low-fat cottage cheese
1 large egg, beaten
¼-cup grated Parmesan cheese
2 tablespoons minced fresh basil or ½-teaspoon dried
1 tablespoon dried oregano
2 cups sliced zucchini
2 cups packed fresh spinach, tough stems removed
1½ cups shredded part-skim mozzarella cheese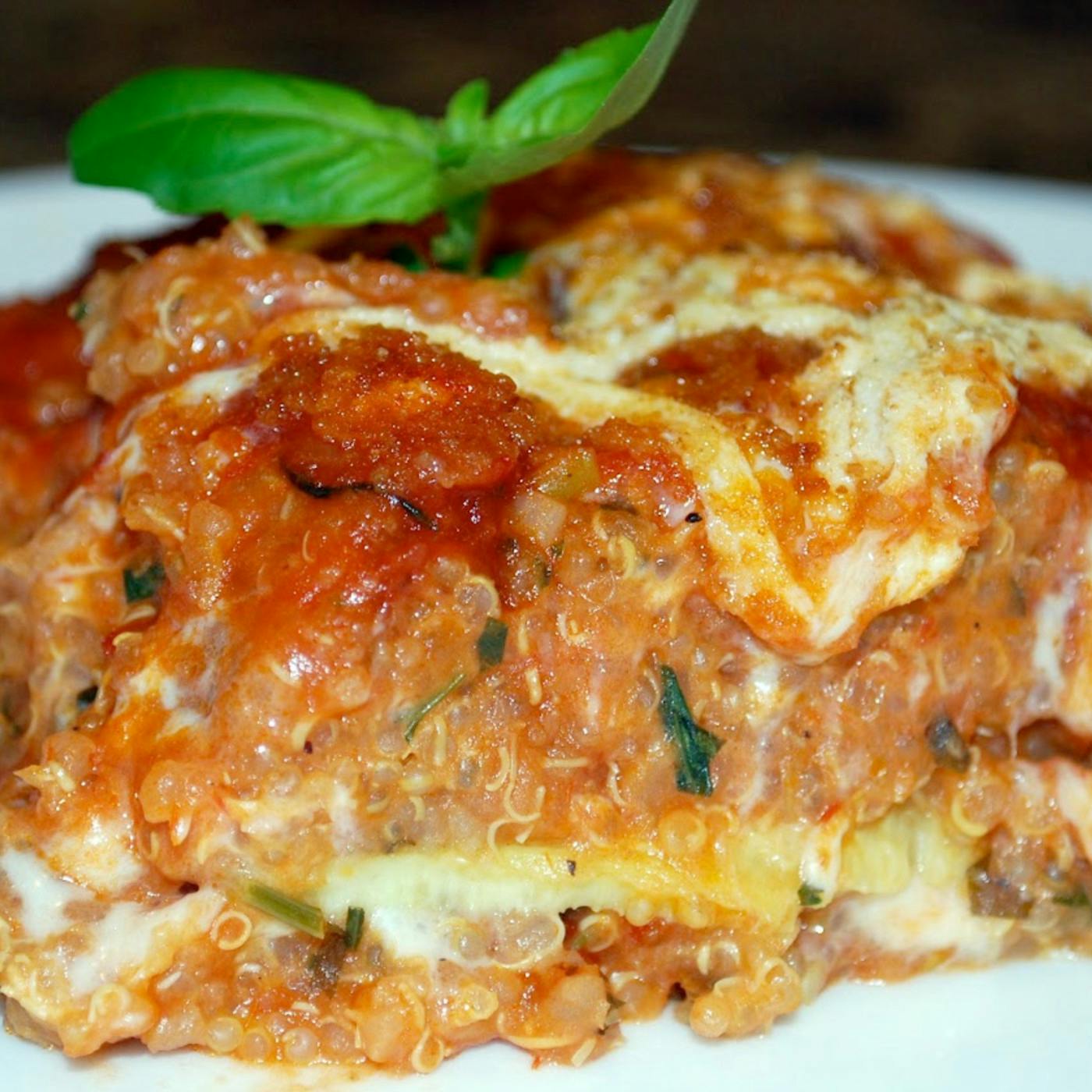 Preparation:
Coat a 9-by-13-inch baking dish with cooking spray. Combine water and quinoa in a medium saucepan. Bring to a boil. Reduce to a simmer, cover and cook for 15 minutes. Fluff with a fork. Evenly spread the quinoa in the prepared dish.
Preheat oven to 350°F.
Wipe out the saucepan, add oil, then heat over medium heat. Add onion; cook, stirring frequently, until transparent and starting to brown (5 to 6 minutes). Add mushrooms; cook, stirring, until mushrooms are softened and very little moisture is left in pan (3 to 4 minutes). Add garlic and sauce. Stir until hot. Remove from heat.
Combine cottage cheese and egg in a medium bowl; mix well. Stir in Parmesan, basil and oregano.
Spread one-third of the sauce over the quinoa. Make a layer of all the zucchini, then all the cottage cheese mixture, then half the remaining sauce, then all the spinach. Finish with the remaining sauce and spread mozzarella on top.
Bake the lasagna until it is hot and the cheese is melted, bubbling and slightly browned around the edges (35 to 40 minutes). Let stand for about 10 minutes before serving.