Delaware Cancer Consortium 2017
Annual Retreat
Tuesday, April
25, 2017
8:00 a.m. – 3:30 p.m.
Dover Downs
Welcome
Rich Killingsworth, Chief of Health Promotion and Prevention at the Delaware Division of Public Health, welcomes attendees and sets the stage for a day of learning.
Opening Remarks
Kara Odom
Walker, MD
Delaware Health and Social Services
Content and Support for
the Issue
I-Min Lee, MD,
MPH, Sc.D.
Professor in the Department of Epidemiology
Harvard School of Public Health
Slide Deck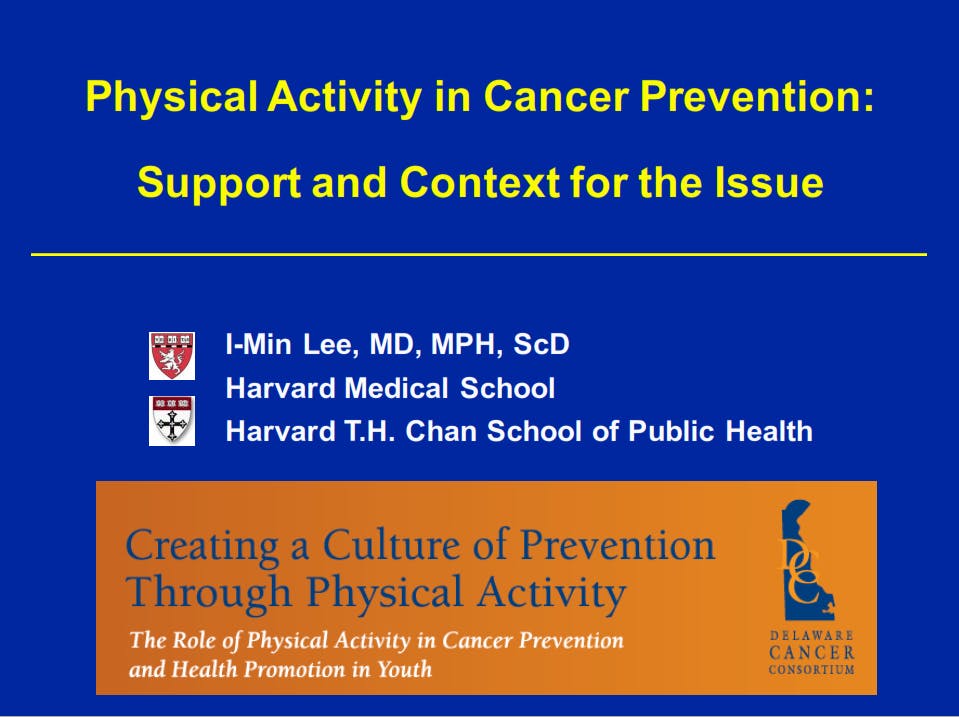 Download (8MB)
Keynote — Role of Sport and Physical Activity in the Lives
of Children
Tom Farrey
Executive Director
Aspen Institute
Special Comments
The Honorable Bethany Hall-Long
Lieutenant Governor
State of Delaware
The Important Role of Physical Education and Physical Activity in Healthier Children: Achieving the National Standards
in Delaware
Irene Cucina
Past-President
SHAPE America
Remarks
The Honorable John
C. Carney
Governor
State of Delaware
Best Practices in Physical Education and
Physical Activity
Mary Puckett, PhD
Centers for Disease Control and Prevention
Facilitated Panel Discussion — What Are We Doing
in DE?
Richard Killingsworth
Chief of Health Promotion and Disease Prevention at the Delaware Division of Public Health
Deborah Bagatta Bowles
President and CEO at YMCA of Delaware
Madeleine Bayard
Vice President at Rodel Foundation of Delaware
Deb Buenaga
Executive Director at Preston's March for Energy
Jennifer Robbins, MD
General Academic Pediatric Fellow of Division of Weight Management at Nemours A.I. duPont Hospital for Children
Call to Action
Karyl T. Rattay,
MD, MS
Division of Public Health
Delaware Health and Social Services
Closing Remarks
Rich Killingsworth
Chief of Health Promotion and Prevention
Delaware Division of Public Health
General Cancer
Screening Campaign
North Dover
Elementary School
YMCA Healthy Weight and Your
Child Program